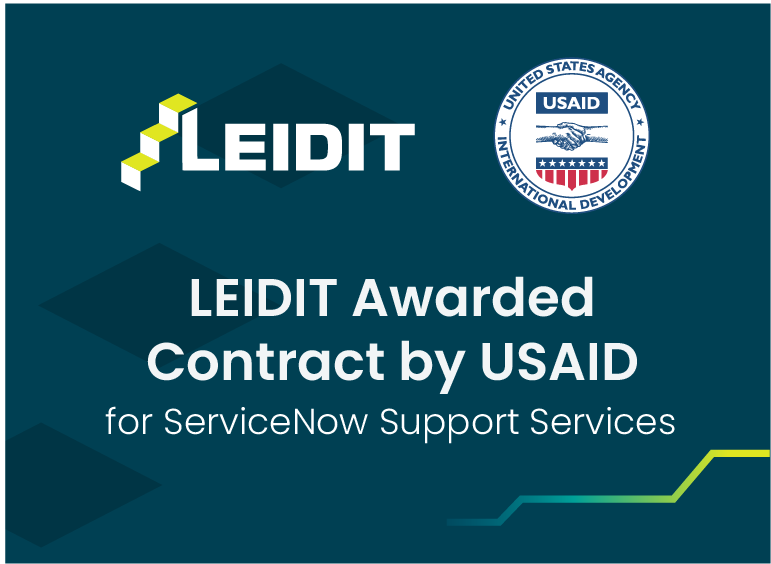 Washington, DC – August 14, 2023 – LEIDIT, a leading ServiceNow partner, has been awarded the ServiceNow Platform Development and Governance contract by the U.S. Agency for International Development (USAID) for ServiceNow Support Services. The contract represents a significant step in LEIDIT's mission to provide cutting-edge solutions to government agencies.
LEIDIT's prior collaboration with USAID includes ongoing successful projects, such as implementing ITSM, ITOM, SPM, HAM & SAM as well as the development of several applications on the ServiceNow Platform to support USAID Missions including LEIDIT's own "MyAssets" ServiceNow Store application. 
Under the new contract, LEIDIT will deliver comprehensive ServiceNow support services to USAID, including platform governance and implementation/integration services. This contract underscores LEIDIT's commitment to delivering excellence and leveraging its technical expertise in the field.
"We are honored to be selected as the main contractor for USAID's ServiceNow support services," said Alex Khayo, CEO of LEIDIT, LLC. "Our team is dedicated to providing solutions that align with USAID's mission. We have a long history at USAID and we continue to be committed to delivering exceptional service as our contribution to USAID to fulfill its Mission"
LEIDIT is well-positioned to embark on this journey and committed to deliver robust solutions and quick results to meet, USAID's specific needs.
About LEIDIT: 
LEIDIT is a trusted ServiceNow solutions provider and is recognized as an elite partner, small, disadvantaged 8(a) SBA-certified business. Leveraging their vast knowledge and access to the latest ServiceNow features and updates, LEIDIT's team of experts delivers innovative services to revolutionize how organizations operate. They are committed to delivering exceptional value through digital and technological innovation, helping organizations unlock the full potential of their ServiceNow solutions. To learn more about LEIDIT and its dedication to delivering innovative ServiceNow solutions, please visit its website at www.leidit.com.
For more information, please contact LEIDIT's Communications & Media Office: Communications@leidit.com