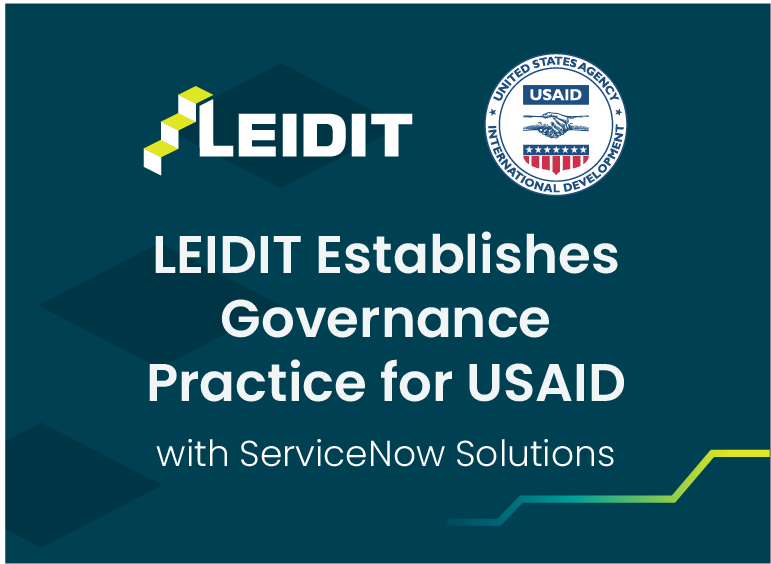 Mclean, VA – LEIDIT, a leading provider of ServiceNow solutions and a ServiceNow Elite Partner, Small Disadvantaged Business, and 8(a) SBA accredited, has been working closely with the United States Agency for International Development (USAID) to establish an overall governance practice that enables cross-departmental collaboration with several ServiceNow modules.

LEIDIT's technical expertise has allowed multiple development teams to work concurrently on different modules, with several departments viewing and updating shared data across the platform. The company has instilled strict technical governance, including architecture and data governance, to ensure solid technical practices and avoid conflicts. This has enabled all of USAID to collaborate across multiple modules on a single ServiceNow instance.

"LEIDIT's collaboration with USAID demonstrates our commitment to delivering efficient and innovative ServiceNow solutions to our clients," said Alex Khayo, CEO of LEIDIT. "We are proud to have been a part of USAID's journey towards improved efficiency and look forward to continuing our partnership."

LEIDIT's expertise in ServiceNow solutions has helped USAID streamline its processes and improve efficiency across departments, further supporting the agency's mission.

About LEIDIT:
LEIDIT is a trusted ServiceNow solutions provider and is recognized as an elite partner, small, disadvantaged 8(a) SBA-certified business. Leveraging their vast knowledge and access to the latest ServiceNow features and updates, LEIDIT's team of experts delivers innovative services to revolutionize how organizations operate. They are committed to delivering exceptional value through digital and technological innovation, helping organizations unlock the full potential of their ServiceNow solutions. To learn more about LEIDIT and its dedication to delivering innovative ServiceNow solutions, please visit its website at www.leidit.com.
For more information, please contact LEIDIT's Communications & Media Office: Communications@leidit.com