LEIDIT Partners with NTT Data USAID to Build Humanitarian Inventory Management System (HIMS)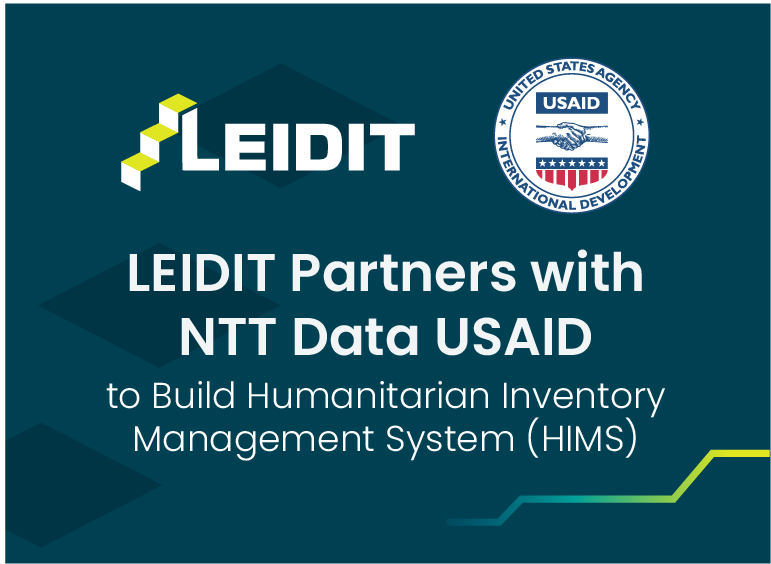 LEIDIT, a leading technology solutions provider, has announced its collaboration with NTT data and the Bureau for Humanitarian Assistance (BHA) at the United States Agency for International Development (USAID) to develop and maintain a Humanitarian Inventory Management System (HIMS). The HIMS system will manage the lifecycle of food and non-food items from procurement requests to distribution in response to international crises and disasters.

"BHA is dedicated to delivering food and non-food item humanitarian assistance in response to international crises and disasters, sudden onset and chronic/protracted humanitarian situations. The timely delivery of these items is critical to saving lives and reducing the impact of disasters on communities," said LEIDIT CEO, Alex Khayo. "We are honored to be working with USAID's Bureau for Humanitarian Assistance on this important project. We believe that our expertise in technology solutions, combined with BHA's commitment to providing aid to those in need, will result in an efficient and effective system. We look forward to continuing our partnership with USAID to help improve people's lives in crisis situations worldwide."

LEIDIT's experience in building efficient and effective systems and expertise in the ServiceNow platform makes it a suitable partner for BHA's Supply Chain Management Division (SCM). The HIMS system will enable SCM to purchase and maintain global stockpiles of food and non-food commodities in prepositioning warehouses across the work world. Relief commodities are dispatched immediately on request to meet emergency needs.

LEIDIT's work on the HIMS system demonstrates its commitment to using technology to solve complex problems and positively impact the world.
About LEIDIT:
LEIDIT is a trusted provider of ServiceNow solutions and is recognized as an elite partner, small, disadvantaged business, and 8(a) SBA accredited company. Leveraging their vast knowledge and access to the latest ServiceNow features and updates, LEIDIT's team of experts delivers innovative and customized services to revolutionize how organizations operate. They are committed to delivering exceptional value through digital and technological innovation, helping organizations unlock the full potential of their ServiceNow solutions. To learn more about LEIDIT and its dedication to delivering innovative ServiceNow solutions, please visit their website at www.leidit.com.
For more information please contact:
Communications & Media Office
LEIDIT +1(202)880-5115
Communications@leidit.com