LEIDIT Signs Contract with USAID to Continue Supporting Its Mission with ServiceNow Solutions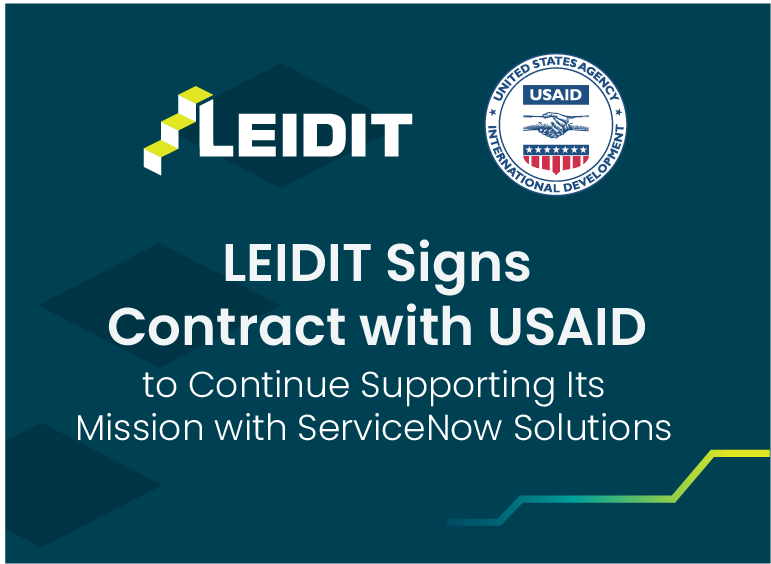 Mclean, VA – LEIDIT, a leading provider of ServiceNow solutions and a ServiceNow Elite Partner, Small Disadvantaged Business, and 8(a) SBA accredited, has announced the signing of a new contract with the United States Agency for International Development (USAID). The contract solidifies LEIDIT's commitment to supporting USAID's domestic and international mission with a diverse, highly credentialed, and multilingual staff.

LEIDIT has supported USAID since 2017, and the new contract further strengthens the partnership between the two organizations. As part of the collaboration, LEIDIT has established the USAID ServiceNow platform and as created, developed, and implemented over 35 products to support various USAID divisions and bureaus, including the OCIO, Human Capital & Talent Management, Oversees Mission Division, Headquarters Management Division, and Policy & Planning Division.

"Our team is thrilled to continue our partnership with USAID and support its mission with our ServiceNow solutions," said Alex Khayo, CEO of LEIDIT. "Our 100% retention rate of staff demonstrates the commitment and dedication of our team to providing exceptional service and support to our clients."

LEIDIT's expertise in the ServiceNow platform has enabled the company to customize its solutions to meet USAID's unique needs. By leveraging its solutions, USAID can efficiently access the required services without investing in expensive hardware or software. The company's services are also transparent and accountable within the government and federal agencies.

"We are proud to be part of USAID's important work, and we look forward to continuing our partnership and supporting its mission with our innovative solutions," added Enver Malsia, CTO of LEIDIT.

About LEIDIT:
LEIDIT is a trusted ServiceNow solutions provider and is recognized as an elite partner, small, disadvantaged 8(a) SBA-certified business. Leveraging their vast knowledge and access to the latest ServiceNow features and updates, LEIDIT's team of experts delivers innovative services to revolutionize how organizations operate. They are committed to delivering exceptional value through digital and technological innovation, helping organizations unlock the full potential of their ServiceNow solutions. To learn more about LEIDIT and its dedication to delivering innovative ServiceNow solutions, please visit its website at www.leidit.com.
For more information, please contact LEIDIT's Communications & Media Office: Communications@leidit.com