LEIDIT Successfully Implements ServiceNow Modules for USAID to Streamline Critical Business Processes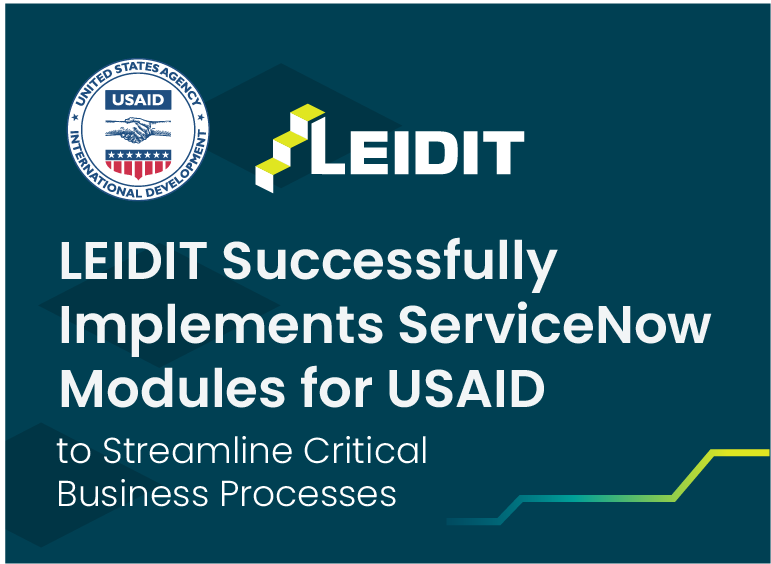 Mclean, VA – LEIDIT has announced the successful implementation of various ServiceNow modules for the United States Agency for International Development (USAID), enabling the agency to streamline and automate critical business processes. These modules include IT Service Management, IT Operations Management, Service Portfolio Management, Project Portfolio Management, Application Portfolio Management, Demand Management, Agile Development, Timecard Management, Hardware Asset Management, Software Asset Management, Service Portal, and Mobile Applications. 
The implementation of these modules has helped USAID achieve significant operational efficiencies, improve data accuracy and visibility, and enhance collaboration across teams. For instance, the IT Service Management module has allowed USAID to manage incidents, requests, and problems more efficiently. In contrast, the Hardware Asset Management module has enabled the agency to track and manage its assets across 80+ missions worldwide. "We are proud to have partnered with USAID to implement these ServiceNow modules, which have helped the agency achieve its mission of promoting global development and humanitarian efforts," said Alex Khayo, CEO of LEIDIT. "Our team is committed to delivering innovative solutions that help organizations make data-driven decisions and improve operational efficiency." This successful implementation is a testament to LEIDIT 's expertise in the ServiceNow platform and its commitment to delivering exceptional service to clients. The company remains dedicated to providing innovative solutions that meet the unique needs of its clients and improve their overall efficiency and effectiveness.
About LEIDIT: 
LEIDIT is a trusted provider of ServiceNow solutions and is recognized as an elite partner, small, disadvantaged business, and 8(a) SBA accredited company. Leveraging their vast knowledge and access to the latest ServiceNow features and updates, LEIDIT's team of experts delivers innovative and customized services to revolutionize how organizations operate. They are committed to delivering exceptional value through digital and technological innovation, helping organizations unlock the full potential of their ServiceNow solutions. To learn more about LEIDIT and its dedication to delivering innovative ServiceNow solutions, please visit their website at www.leidit.com.
For more information please contact:
Communications & Media Office
LEIDIT +1(202)880-5115
Communications@leidit.com