LEIDIT Team Members Obtain Prestigious CTA Certification in ServiceNow Platform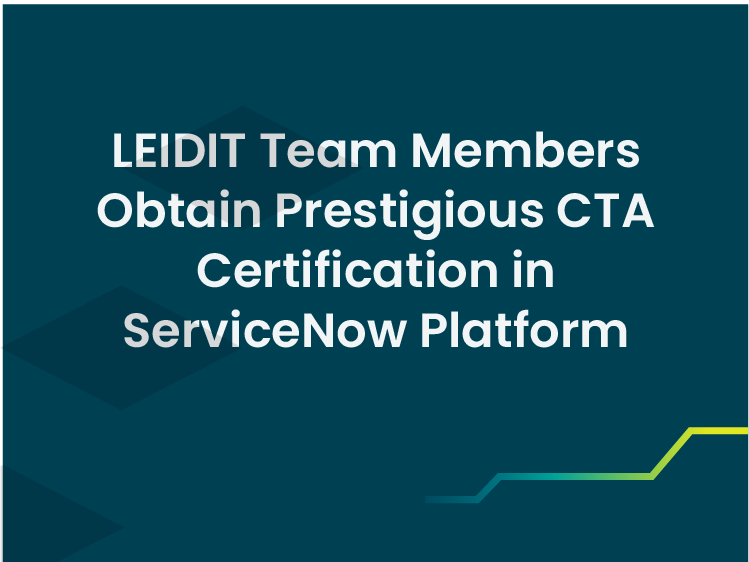 LEIDIT, a leading ServiceNow partner, is proud to announce that one of its team members, Dagan Chapman, Sr. Architecture has recently obtained his Certified Technical Architect (CTA) certificate. This is a prestigious certification awarded to ServiceNow experts who demonstrate their knowledge and expertise in designing and implementing ServiceNow solutions.

Chapman joins a select group of individuals who have achieved this highly respected certification, which is considered the highest level of achievement in the ServiceNow ecosystem. The CTA certification requires extensive knowledge of the ServiceNow platform and its implementation, as well as strong leadership and communication skills.

"We are extremely proud of Dagan for his hard work and dedication in obtaining his CTA certification," said Alex Khayo, CEO of LEIDIT. "This achievement is a testament to his expertise and commitment to providing the highest quality solutions to our clients."

In addition to Chapman's achievement, LEIDIT is proud to announce that two more team members are expected to obtain their CTA certification by the end of 2023. This demonstrates the company's continued investment in the development and growth of its employees, as well as its commitment to delivering the highest quality ServiceNow solutions to its clients.

"CTA certification is a reflection of our team's dedication to staying at the forefront of ServiceNow technology and delivering innovative solutions to our clients," said Enver Malsia, CTO and Co-Founder of LEIDIT. "With the addition of Dagan's CTA certification and two more expected by the end of 2023, we are better positioned to meet the needs of our clients and deliver exceptional results."

LEIDIT's commitment to developing its employees and investing in their growth is a key factor in its success as a leading ServiceNow partner. The company's continued investment in its team members' professional development allows it to stay at the forefront of ServiceNow technology and deliver innovative solutions to its clients.
About LEIDIT:
LEIDIT is a trusted provider of ServiceNow solutions and is recognized as an elite partner, small, disadvantaged business, and 8(a) SBA accredited company. Leveraging their vast knowledge and access to the latest ServiceNow features and updates, LEIDIT's team of experts delivers innovative and customized services to revolutionize how organizations operate. They are committed to delivering exceptional value through digital and technological innovation, helping organizations unlock the full potential of their ServiceNow solutions. To learn more about LEIDIT and its dedication to delivering innovative ServiceNow solutions, please visit their website at www.leidit.com.
For more information please contact:
Communications & Media Office
LEIDIT +1(202)880-5115
Communications@leidit.com