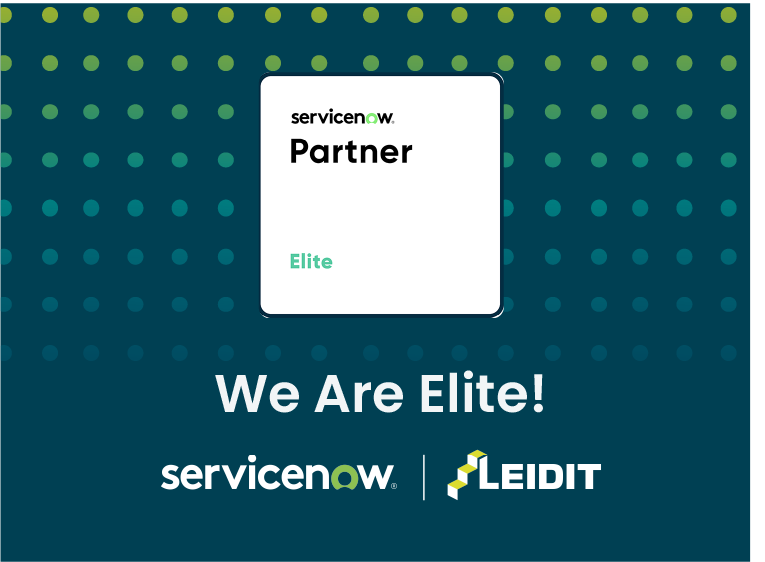 LEIDIT, a leading provider of ServiceNow solutions and services, has announced its achievement of Elite Partner status with ServiceNow, a leading digital workflow company. This recognition is a result of LEIDIT's dedication to delivering high-quality ServiceNow solutions and services to its clients, as well as its outstanding sales performance, customer satisfaction, and product expertise. As an Elite Partner, LEIDIT will have access to ServiceNow's comprehensive suite of tools and resources, allowing them to better serve their customers with industry-leading solutions. 
With this new status, LEIDIT is well-positioned to continue providing innovative solutions and services to its clients, further enhancing its capabilities, and expanding its reach. ServiceNow is a cloud-based platform that provides digital workflow solutions for businesses of all sizes, helping them automate workflows, streamline operations, and enhance customer experiences. LEIDIT's Elite Partner status with ServiceNow is a testament to its commitment to excellence and dedication to its clients' success.
About LEIDIT: 
LEIDIT is a trusted provider of ServiceNow solutions and is recognized as an elite partner, small, disadvantaged business, and 8(a) SBA accredited company. Leveraging their vast knowledge and access to the latest ServiceNow features and updates, LEIDIT's team of experts delivers innovative and customized services to revolutionize how organizations operate. They are committed to delivering exceptional value through digital and technological innovation, helping organizations unlock the full potential of their ServiceNow solutions. To learn more about LEIDIT and its dedication to delivering innovative ServiceNow solutions, please visit their website at www.leidit.com.
For more information please contact: 
Communications & Media Office 
LEIDIT +1(202)880-5115