Leidit Launches Case Study About Successful Implementation Of MyAssets By Us Federal Agency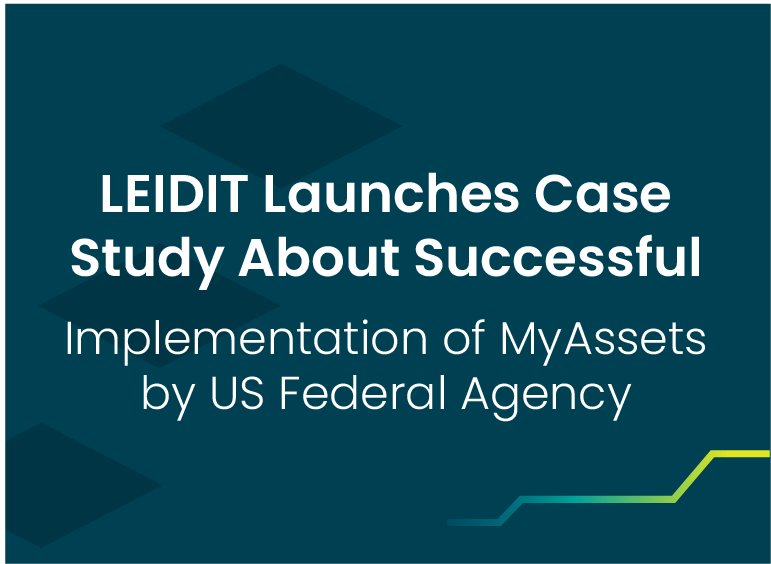 Mclean, VA – LEIDIT, a leading provider of ServiceNow solutions and a ServiceNow Elite Partner, Small Disadvantaged Business, and 8(a) SBA accredited, is pleased to announce the launch of a new case study showcasing the successful implementation of "MyAssets" application from LEIDIT by a leading US federal agency. The agency operates in more than 100 locations, with approximately 20 of those locations in the US and 80 overseas.
Before implementing "MyAssets" application developed by LEIDIT, the agency relied on a highly decentralized and unreliable IT asset management repository that was built with manual processes and required physical site visits. Conducting a traditional wall-to-wall asset inventory every year was time-consuming and laborious, with completion falling to the Mission Systems Managers. For remote locations, the process required an individual evaluation of site assets.
With 80% of the agency's pre-COVID-19 remote employees working overseas in different countries, the traditional asset inventory process was costly, time-consuming, and inaccurate. When the COVID-19 pandemic hit, 100% of the agency's workforce became remote, with many employees having assets in their homes. This only compounded the challenges posed by the traditional asset inventory processes and resulting data quality issues.
The implementation of "MyAssets" by LEIDIT allowed the agency to centralize its asset management processes and automate many of the manual processes that were previously in place. "MyAssets" provided real-time visibility into the agency's IT assets, allowing for better decision-making and more accurate reporting.
"We are thrilled to showcase the successful implementation of MyAssets by this leading US federal agency," said Alex Khayo, CEO of LEIDIT. "The case study demonstrates the value of our ServiceNow solutions in helping organizations improve their asset management processes, streamline operations, and achieve better outcomes."
Enver Malsia, CTO of LEIDIT, added, "At LEIDIT, we understand the importance of leveraging technology to drive positive change. We are proud to have developed "MyAssets", a solution that has helped this federal agency streamline its asset management processes and achieve better outcomes."
The case study provides detailed insights into the implementation process and the results achieved by the agency after deploying MyAssets. 
About LEIDIT: 
LEIDIT is a trusted provider of ServiceNow solutions and is recognized as an elite partner, small, disadvantaged business, and 8(a) SBA accredited company. Leveraging their vast knowledge and access to the latest ServiceNow features and updates, LEIDIT's team of experts delivers innovative and customized services to revolutionize how organizations operate. They are committed to delivering exceptional value through digital and technological innovation, helping organizations unlock the full potential of their ServiceNow solutions. To learn more about LEIDIT and its dedication to delivering innovative ServiceNow solutions, please visit their website at www.leidit.com.
For more information please contact:
Communications & Media Office
LEIDIT +1(202)880-5115
Communications@leidit.com